I did it. Finally! My last visit in Poland was in 2016 but it was obviously too short. I was in Krakow city, but only for a few days and couldn't see as much as I wanted to. That's why I had decided to go back to Poland on my last vacations. Although I love my job as a stewardess, it is extremely tiring. Coming back to Poland to visit Krakow was an excellent idea to relax and recover after hard work. I was also planning to go on Wieliczka Salt Mine tour, as I my best friend told me: "this place is an absolute must see if you visit Krakow!". I always trust his words and never regret doing anything he recommends.
So I was in Krakow again. Everything went absolutely perfect. The weather, the hotel, the company and the places I had seen. I was with my boyfriend, who was not so enthusiastic to visit Krakow. However, he's changed his mind just on a first day of our trip. We loved the food and beautiful architecture of the Krakow Old Town. My boyfriend was crazy about the zapiekanki especially 🙂 The Jewish district – Kazimierz was really interesting as well. I did know much about Jewish history so it was a good chance to learn something as well.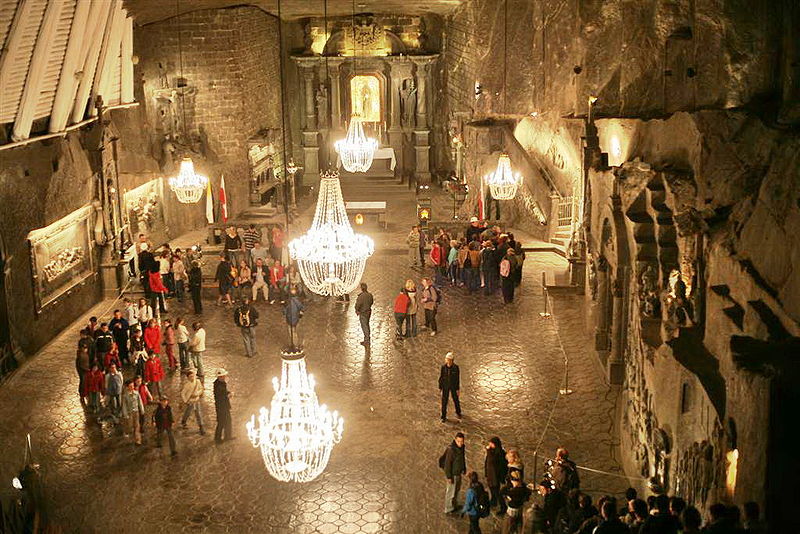 After one week in this beautiful city we finally went on Wieliczka Salt Mine tour. My friend was right – it was amazing! The first thing is that the place looks magical – like from some Disney movie. The mine has a lot of chambers with different types of stalagmites and stalactite. However, the main chamber was for me the most impressive one. As I found out that there is a possibility to have a wedding party in there I said to myself I have to do this. After I found out about the price and was not so enthusiastic anymore… Anyway, the Wieliczka Salt Mine tour lasted for a few hours and was extremely interesting. Although Wieliczka is a very small city, thousands of tourists from around the world are coming there every year. What a magnificent place!
Now my holidays are over, so I write this post with a kind of sentiment. When I look back on the polish trip I always remember the Wieliczka Salt Mine tour as a special day.